Jimmy Eat World - Clarity Live
(Interscope - 2009)
A l'occasion des 10 ans (déjà !) de la sortie de leur album
Clarity
,
Jimmy Eat World
se sont fait une petite tournée américaine de dix dates où l'intégralité de l'album a été jouée. Et pour marquer le coup, un live (enregistré à Tempe, Arizona, à domicile, dernière date de la tournée) sort en format digital, disponible à l'achat sur le
site
du groupe. A sa sortie,
Clarity
avait été une grosse baffe pour moi, et je le considère toujours comme un de mes albums préférés toutes tendances confondues, donc j'attendais avec impatience ce live (à défaut de n'avoir pû aller faire une des dix dates). Et dès les premières notes je retrouve tout ce que j'aime dans ce disque: les mélodies épurées, la sensibilité des morceaux et le chant empreint d'émotions. Dix ans après, les morceaux me filent toujours autant de frissons (j'imagine même pas en vrai ce que ça a dû être), je suis juste un peu déçu par la version de
A Sunday
que j'attendais plus poignante et par
Goodbye Sky Harbor
qui est amputée de 6 minutes par rapport à la version studio, mais les
Lucky Denver Mint
,
Just Watch The Fireworks
ou
Clarity
rattrappent le coup sans problème. C'est juste dommage que ce groupe soit devenu si banal après ce disque.
www.myspace.com/jimmyeatworld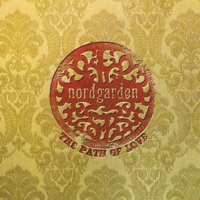 Nordgarden - The Path Of Love
(GD Nord - 2008)
Suite à son
très bon concert
j'ai acheté l'album du norvégien
Nordgarden
. Un album où j'ai pû retrouver la fraicheur de ses chansons, qui sonnent aussi bien dépouillées en live qu'avec les arrangements (ce qui des fois n'est pas le cas avec certains "songwriters"), un piano, des cordes ou même une trompette venant appuyer sa voix limite soul. Les morceaux me sont rentrés dans la tête dès que je les ai entendu l'autre soir et j'ai l'agréable impression de déjà connaitre cet album par coeur. Et puis, reprendre un morceau de
Morphine
(
The Night
, extrait de l'album posthume du même nom) c'est signe de très bon goût !
www.myspace.com/nordgarden